Milly Santiago
"Power for me is about sharing. I feel powerful when I am able to share what my position is all about with people, and to be a role model and lead by example. Power is something that you have to share. When you share power, you empower people as well."
Each year I get increasingly into politics. Lately, I've been wondering if I would ever have a place in politics and what form that would take if I did. I grew more curious about politicians, namely aldermen who deal more directly with their constituents, their neighborhoods, the day-to-day stuff. I followed that curiosity and searched through the list of Chicago aldermen to find only 12 out of 50 aldermen are alderwomen. While researching that smaller list, I came across Milly Santiago, an alderwoman originally from Puerto Rico, who has lived in her ward—the 31st—for 32 years. I decided I wanted to talk to her during her first year in office. When chatting with Milly and some of her staff about the possibilities for this project, one activity seemed to stand out. Milly loves to cook, and she loves to cook authentic Puerto Rican food for her staff during their lunch hour. She'll bring in half-prepared meals to the office and heat them up in the kitchen to serve to everyone on the staff. Mixing up ingredients, heating things up, bringing disparate elements together, and keeping many pots going at once all seem like perfect metaphors for what Milly tries to do as an alderman, so we gave her the power of stirring a pot even when her back had to be turned to tend to something else. Oh, and thankfully, my crew and I got to taste Milly's cooking and loved it as much as her staff does. I don't think I've ever been on a film set that smelled so good.
We started talking while she was cooking, so this first part of the interview has a well-timed interruption from a crockpot.
<<<>>>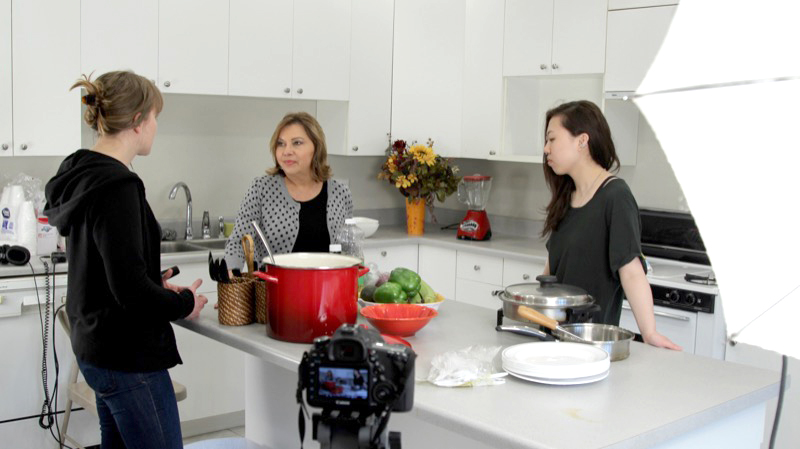 Lori: You were a reporter on Telemundo. Were you on the scene a lot, or were you in the studio more?
Milly: I was always on the street covering local news, mostly in Chicago. But we went everywhere. Any parts of Illinois. I did some traveling through Mexico, Puerto Rico, other parts of the United States doing breaking news or politics, elections, natural disasters, we covered a lot of that stuff.
Do you have any favorite stories?
The most important stories for me were the ones that had to do with the human aspect. When people lost a child, or someone went through a tragedy, someone was shot. Parents who lost kids because of cancer or another type of illness. Those are the stories that I really loved to do.
Why?
Because at times people feel that they are alone and they don't get any sympathy from the government or organizations. They don't have insurance or the money to deal with their situation. Some stories had to do with immigrant people who didn't have anything and who were rejected from hospitals. My role was to try to get that message out and get people involved and helping out. We demanded that the people be admitted and get help. When a reporter steps in and makes the demands that make noise, things do happen.
I have a lot of stories that stay in my heart. People who were murdered, and the police didn't have the time to follow the story or to do the investigation, sometimes because of the color of their skin or what have you. Reporters have a responsibility to continue following up, just to make sure that the job is done and there are answers for those people that are waiting. I was able to bring out a lot of things and give people the solutions and the tools to get them to be recognized.
I covered a lot of politics too, a lot of cases of corruption
[laughter] I heard you say politics, and it started to boil.
Isn't that something?! I covered a lot of corruption stories, like Operation Silver Shovel. That was when some aldermen got caught taking bribes and some of them went to jail.
And you still wanted to be an alderman.
What I bring is a different perspective, a different image of what a politician is about. Some politicians, when they are in office for a long time, they tend to forget why they were elected. They forget about the people, and their basic responsibilities. They become greedy. They just want to make money and they just don't care about the little people, about the poor.
With me, being a new alderman, I think I could bring a lot of trust back. People can feel that I'll get things done. I may not be able to do everything, but if I have the ability and the capacity to get the problem solved, I will. And if I can't do it, I'll make sure that I reach out to other people who will be able to do it.
So these are the tostones! We are almost ready to eat!
Can you tell us what you made?
I made my traditional Puerto Rican rice. These are the tostones, which are made out of green plantains. They are deep-fried. The compliment is my pork chops primavera.
Now for the main course, I mean, interview:
Who are you?
I am someone who truly believes that I was born to serve. Someone who's very humble and compassionate at the same time. Someone who believes in justice, fairness. Someone who can be trusted.
Do you feel that way all the time, and not just as an alderman?
I do. I feel that way all the time. The face that you see in front of you is the face that I wear all the time. I'm someone who's very active and has a good personality. Someone who says "hi" to everybody and treats people with respect. That is something that should be on top of the list for any elected official.
For your portrait, we decided to have you cook in the video. It's partially because when I was first talking to you, and I asked, "Other than being an alderman, what do you like to do?" and you immediately lit up and said, "I love to cook!" I thought, "Okay, there's something there." Can you talk a little bit about what cooking means to you, and especially the way that you cook in the office??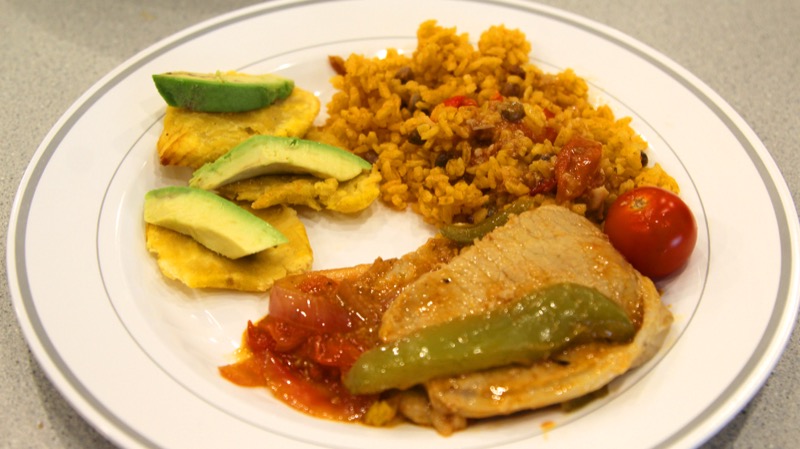 Since I was a child, I remember helping my mother in the kitchen. I learned to cook at a very early age, because we were ten siblings. I was the second one and the girl. Usually in our country, the oldest girl especially, is the one who follows the mom and helps out in the kitchen and the household. So, I learned at a very early age and developed a passion for cooking. I always watch all the chef programs and learn from everything. Every time I have a party, I like to cook everything.
Sometimes, since we close my office during lunchtime, I decide to go in the back and cook something for my staff. We all have a nice meal, a good time, and my staff seems to be very grateful.
We already talked a bit about your work for Telemundo, for television. What's the connection between the work you did for TV and being an alderman.
There are a lot of strong connections. When I was a news reporter I was always on the street covering everything from politics, crime, breaking news, education, to health issues. I learned a lot throughout my 20-plus years as a newscaster. I was always connected to the communities: the white, the black, the Hispanics, the Asians, you name it. News has no boundaries, no limits. I learned a lot. I was actually the reporter from Telemundo who covered City Hall, elections and Election Day. That was my forte. When I started to consider running for alderman, I already knew all the ins and outs.
Once you were running, were there politicians who already knew you as the reporter?
All of them knew me.
Was that weird for them? Was that a setback for you in any way?
At times, people thought that it was not a good combination, because they didn't think I did enough in the community, but I did a lot. I was able to solve a lot of problems and bring so many answers to the community as a whole. I was the one out there crying with parents who lost a child or had gotten fired. Some people said that I didn't have the credentials, but I challenged all of them. I remember going to do a stories in many wards and connecting with the elected official representing that community. Most of the time, I was the one who brought the news to them because they didn't know that that particular problem was happening. I knew a lot of stuff that not even the elected officials knew.
It seems to make a lot of sense to me, actually, now that you explain it. Being a journalist and being on the street, and then becoming an alderman. There are so many politicians that are businesspeople, and that's okay, I suppose, but it's also more special-interest, whereas if you're a journalist you've got practice being unbiased.
Absolutely. I know a lot of elected officials who have another job besides being an alderman or a senator. I would say that would be a distraction. People ask me, "What else do you do besides being an alderman?" I say, "I am a full-time alderman. I want to be a full-time alderman." Because in order for you to do a good job, you have to be here. You can't be distracted doing something else, making money in other stuff, when the reality is that your duty is here, in your ward. That's how I feel. Although, technically, alderman is a part-time job. I could always have another job on the side, but I wouldn't know how to do it, because I'm always here. Being an alderman for me is 24/7.
You don't have to tell me how much you earn, but I'm kind of curious. Is it a set salary for all aldermen across the city?
Roughly around $120,000 a year. I'm about 117, around that. Most of the aldermen make about the same amount. Some people say, "You get paid a lot!" I say, "You know what? I earn every single penny for what I do, and we should be paid more, because this is a seven-day-a-week position."
Do you have emergencies ever? Do you get calls on the weekend? Are you on call in any way?
Yes, I consider myself being on call all the time. Especially when there are issues of a shooting, some serious problem regarding public safety, when there's bad weather, a snowstorm, or flooding or anything like that, we are on alert. We're out there solving any particular emergency that people may have.
When you decided to go toward politics, why alderman specifically? Why not another type of office?
I've lived in this ward now for 32 years. I raised my children here. I've always been part of this community. The last few years, I noticed that the economic development was going backwards rather than forward and more gang activity was happening, more crimes, more shootings. Schools were not performing as they should be compared to other areas in the city. I had people approaching me to suggest that I run for office. This ward was so dark and dull. You drive by and you see a lot of storefronts vacant because a lot of businesspeople decided to leave. I'd like to keep every single business person in this ward and help them be successful.
What was campaigning like for you?
My campaign, my race was very different, because, remember, I was challenging a 24-year alderman, someone who carried the title of Vice Mayor. So, it was pretty challenging to me. A lot of people told me, "Milly, you have to drop out. You're not going to make it. This is too difficult for you." I said, "You know what? I am so confident. I want to follow my instincts. Nobody's going to stop me. Nobody's going to convince me to drop out of the race."
Then, when we forced the runoff and that's when things got really, really hard. I had to face six more weeks of campaigning with a different strategy, with a stronger message. Good thing that I had a very good team of people and volunteers. After the first election in February, a lot of people who were involved in other campaigns were able to come work for me. I got up earlier every day for six weeks, and I went home later for six weeks. If you want to win something, you have to work very hard. Those last six weeks were very, very intense, oh my goodness. Sometimes I felt like I was going to collapse. Physically, I was really, really tired, really worn out. But I prayed at night and I prayed in the morning. I believe in the power of prayer. I prayed in the morning for God to walk with me. Sometimes I felt the most amazing feelings through my walk and through my constant hard work.
Does it make a difference to you that only 12 out of 50 Chicago aldermen are women? Do you notice that??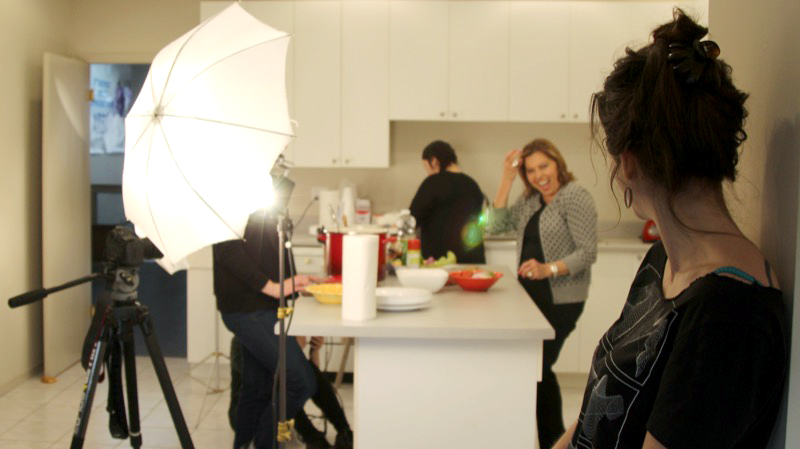 Yes, absolutely. We are a minority and I'm a minority twice, as a woman and as a Latina woman.
Do you think it makes a difference, being a woman in this position? Is there something that you, as a woman, bring to the job?
I haven't noticed yet, because I've been in office for one year. I want to make sure that I could bring something to the women caucus, to try to expand the agenda, when it comes to issues related to women. We have a very particular role as alderwomen, because the rest of the men may not be as interested in or notice issues affecting women directly. We have a double duty.
What issues affect women directly in this ward?
Domestic violence is one. Discrimination, especially job discrimination. Equal pay is one of the issues that we have to deal with.
Can that be something you can do within the ward? It's not a larger issue outside your jurisdiction?
Not within the ward, but at least we can empower women to be more on the forefront to fight for what's fair for us as women. The women in City Council represent the interests of every single woman in the city: empowerment, better jobs for women, empowering single moms who are struggling with their kids and paying rent and having one or two jobs. We need to make women part of the process, make them understand why it is so important to register to vote, and exercise that right, because it gives women power. If women have 12 or 13 women representing them in the city, I think they will depend on us even more when there are issues that are affecting them directly.
Public participation seems to be really important to you. Can you talk about the ward-based voting program you were explaining to me earlier?
That is the Participatory Budgeting Program. That program was brought to Chicago by Alderman Joe Moore. It's been implemented for about ten years or so. When I was first elected, he approached me to give me a very broad background about what that program was about. It was quite interesting and I knew immediately that it was something I would be able to implement.
Participatory Budgeting means you make people in your ward participate on how to spend the million dollars that we all get. We have what's called a menu budget to fix the sidewalks, do resurfacing, tree trimming, lights, alleys, rodent control, garbage pickup, anything you can think of in terms of city services. You bring people together to get ideas on what they would like to see implemented in their immediate area. If they have a problem that hasn't been addressed for five to ten years because of the budget or because the alderman just hasn't done it, that person has a very good chance of pushing that program, because the ones who vote for those ideas are the same residents, they are my constituents.
At the end, we go through a selection process of all the ideas. Some of them may be duplicates or some may not be possible to accomplish, because it's not under our jurisdiction, or it's too costly. We ended up with ten projects that people from those particular areas brought to the table. Then people get to vote for those projects. The projects that have the highest number of votes are the ones that we get to implement. If they don't go over the million dollars or over the half a million dollars, we get to implement it this year.
Did you do one of these recently?
We just finished the voting last week. We have to wait until the rest of the aldermen who decided to implement it finish, so we could submit projects to the city.
How many aldermen run this program?
There are about seven to ten of us. The rest of the aldermen haven't been so positive about it, because it's a lot of work.
Even though it helps their constituents directly.
It's a lot of work and some may consider that it could be controversial. Constituents might argue, "Why do you want to do this on this block or that on that block? That is not our priority." And it happens. We just got feedback from people who didn't vote, come to the meetings, or participate during the briefings and the community meetings. I don't want to offend anybody, but we're giving you the opportunity to be part of this. The choices aren't coming from me, they're coming from the people. Please help me select those projects that we could implement and be part of the inclusive process. If you don't want to be a part of that, then don't complain.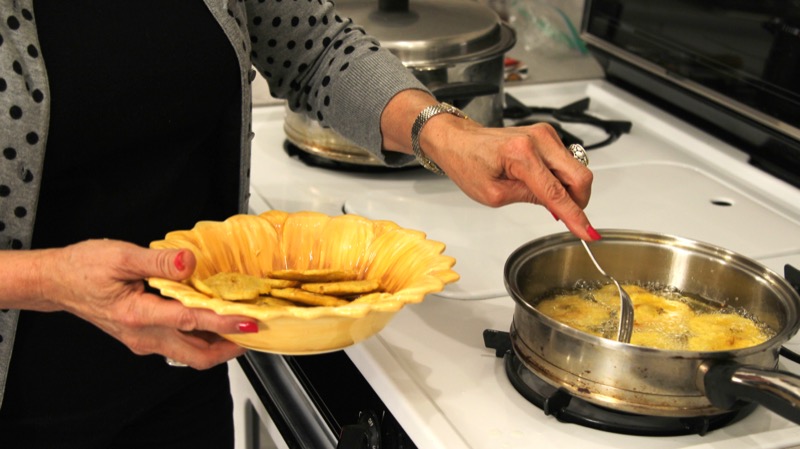 Let's talk about power. Describe a moment or a time when you feel the most powerful.
When I'm able to try to change something that is not working for the people. I can feel the power when I make people understand that sometimes what they believe in is not the right thing. Power for me is about sharing. I feel powerful when I am able to share what my position is all about with people, and to be a role model and lead by example. Power is something that you have to share. When you share power, you empower people as well.
How has your first year as alderman been? What has been most successful and made you feel like things were working?
The Participatory Budgeting program is one of them, because people now realize that I am bringing them together and inviting the community to be part of what we are doing as aldermen, instead of just selecting with my finger what I want and what I don't want. The other important moment is when I voted against Rahm Emanuel's budget, the municipal budget that passed last May. I had a lot of people coming to me, a lot of arm-twisting, to vote yes for the budget. I said, "There's no way that I'm going to vote yes, because I need to represent the interests of the people who elected me, and this budget is really bad." The main thing was the property tax hike and the garbage pickup. I had a lot of my constituents saying to me, "Alderman, I hope that you do not vote for that budget." But then some people who say, "But if you vote no, you're going to become the mayor's enemy, he's not going to help you when you have projects that you want to build." And I said, "You know what? Don't give me that card. I don't want to play that card. No." From the very beginning, I promoted myself as being an independent voice, not a rubber stamp.
It was very challenging, I'm telling you, it was really really difficult. The night before the vote I almost couldn't sleep, thinking, "What way should I go? I don't want to become the mayor's enemy either. He needs me and I need him." But at this point, that was the most important vote as a rookie alderman. I had to respond to my people. I'm sorry. I voted against it. I am really, really proud of that vote.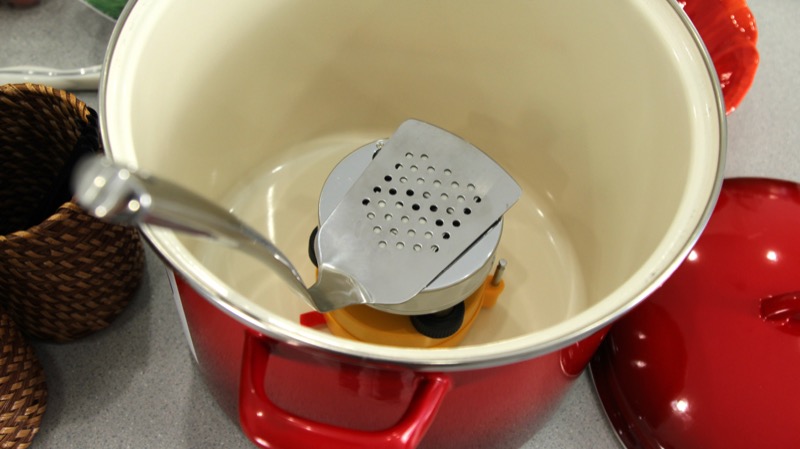 To follow up on that question, describe a situation in which you feel the most powerless.
When there is so much going on with the crime rate, gun activity, kids being recruited and drive-by shootings. I wish I had that magic ability to try to get these guys to just drop out of gangs and do something else. We're losing a lot of kids on the streets, because they want to listen to the gang leader rather than their parents or their teacher.
One of the things that I usually emphasize is for parents to become more armed with abilities to understand when their kids prefer to be on the streets rather than in school. I think we have to continue to empower parents and help them become better parents. A lot of parents have lost control over their kids and the schools as well. I wish I could just do something to try to prevent that shooting that is about to happen in two hours. It's unfair for people to just blame the alderman or blame the police for not doing their job. I wish we knew where every single arm is located. There are a lot of kids who have a firearm and their parents don't even know that there's a firearm in their own home. But on the other hand, gang membership is also carried from generation to generation. Which is so sad and painful. I know a lot of parents who are gangbangers and they encourage their kids to follow their steps.
And how do you change the entire family?
How do you change that when they're already adults? They know that they've gone through a lot of issues with law enforcement. They have lost their relatives or friends in gunfire, or they are in prison for the rest of their lives and they still don't learn that lesson? What else can we do? What else? Something's going to have to happen, and we have to start from home. It has to be from a very early age that you start building with your kids, encourage them to go to school, to be somebody, and learn that the streets are not the option. The street is the option if you want to go six feet under, or if you want to go behind bars for the rest of our life.
It sounds like you put a lot of time and emotional energy into your job. Other than being an alderman, how else do you spend your time?
When I don't have anything on my schedule, in the evening or on weekends, the first thing I do is call my daughter so I can go and spend time with my grandson. I have an eight-month-old grandson that is the light of my life. I go to church too. I spend a good amount of time going to organization events. We get a lot of invitations.
You know, there are still people who cannot believe that I won this race. Some are really happy, and some people come to my office and say, "You know that I didn't vote for you." I say, "That's fine. That's what democracy is all about." But then they say, "But I'm really happy that you're doing this and you're doing that." During summertime, I go to almost every block party. I hop from party to party on a Saturday about five or six times. I just love being out there with the people.
Why do you think some people didn't want you to be alderman?
Let's put it this way: A lot of people fall in love with politicians, even if they are bad, even if they are crooks, even if they do not deliver the messages, even if they do not deliver the services that people are waiting for. They fall in love and it's almost like an idolatry.
And they get comfortable.
A lot of people don't want changes. They are afraid of changes. They are afraid of that other person that is going to come in and change things.
Even though it could get better.
Exactly. I have a tough challenge ahead of me, because I have to prove myself to people that I could be the alternative they were missing for a long time. It's true, I have a lot of people who say, "Santiago, I'm really happy with you, for the first time, I see something going on in my block. These are things that were never taken care of, so we thank you because your Ward Super comes to us and he tries to solve the problem." I have a great team of people. My Ward Superintendent is a person that is out there even after working hours and on weekends, if I call him for something, he says, "Alderman, I'll be out there." He jumps in his truck and goes out there to solve the problem instead of just waiting for Monday.
Do you think you had any trouble with some of the people who didn't vote for you because you're female or because you're Latina? Or do you think that's not an issue?
Maybe more because of gender.
They're not used to it, so they weren't sure if it would work.
That's a challenge that we have. We still have the issue of acceptance in the community. A lot of people think that women should not be involved in politics at all. It's that old school mentality that a woman has to be at home raising the kids and washing the dishes and cleaning and that's it. No! It's about time that we paired with men in every level. We have proven that we can do it better. I'm going to do it better.